Welcome to the GCCFSA
The Governing Council of the Cat Fancy South Australia
Established in 1962 and affiliated with the Australian Cat Federation, the Governing Council of the Cat Fancy of South Australia (GCCFSA) is the original controlling body and pedigreed cat registry in this state. The Council is supported by seven affiliated cat clubs, and we cater for all cat-lovers / owners / breeders of most cat breeds.
Our Secretary and Public Relations Officer voluntarily provide our free 'information and advice' service, because we all love cats and we want your pet to live a long and happy life.
---
REGISTRARS
GROUP 1 - Longhair registrar1@catfancysa.asn.au
GROUP 2, 5&6 - Siamese, Domestic & Companion registrar2@catfancysa.asn.au
GROUP 3&4, BDP - Shorthair and Breed Development Programs registrar3@catfancysa.asn.au
For more details on GCCFSA Officebearers see Executives
---
SHOW INFORMATION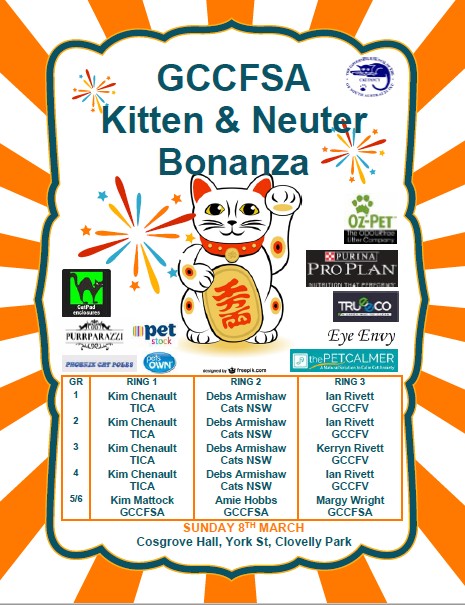 GCCFSA Kitten & Neuter Bonanza - Sunday 8th March - 3 Ring Show - SCHEDULE out now! [Feb 20]
All show results available as CATALOGUES & SHOW RESULTS [Dec 19]
Golden Awards 2019-2020 QUALIFIERS Updated - see GOLDEN AWARDS [Dec19]
---
SHOW RULES UPDATE
Vaccination certificates MUST now be provided at vetting for all kittens. Please ensure that kittens can be identified on the vetting card and the original stickers and vet signatures are available.
Be ON TIME for vetting - late exhibits may be refused entry.
---
PEDIGREE TRANSFER UPDATES
TRANSFER OF PEDIGREES TO NSWCFA - NSWCFA now require a five (5) generation pedigree for all breeds of cats being transfered to them. Effective from 1/01/2019 - the GCCFSA fee for a five (5) generation pedigree is $16.00.
TRANSFER OF BRITISH SHORTHAIR TO QFA - QFA now require an eight (8) generation pedigree or be able to verify 8 generations on transfer for British Shorthair. Effective from 1/01/2019 - the GCCFSA fee for an eight (8) generation pedigree is $40.00.
IMPORTING BRITISH SHORTHAIR TO ACF (AND AFFILIATES) - ACF affiliates now require a FIVE (5) generation pedigree on importation of British Shorthair. This can be done be ancestral pedigree and must show clear lines of British Shorthair to be accepted. Effective from June 2019 (ratified Sept 2019).
---
GCCFSA Cattery Accreditation
GCCFSA has a program of accreditation (period of 5 years) for catteries (breeding and boarding) that are registered with GCCFSA. The program is intended to show that GCCFSA is acting in a responsible way to promote and protect our catteries and the public.
More details in Members section - Documents
---
GCCFSA Show Sponsors
A responsibly owned cat will be a source of pleasure and comfort for many years.
---
Can we help you?
Do you know what to look for when choosing a kitten? What is the best way to introduce a new kitten to your home? Did the breeder of your kitten advise you about feeding, worming, grooming, vaccinations, flea control, desexing, identification and other matters?
Are you a RESPONSIBLE PET OWNER, concerned about giving your pet the best possible care without damaging the environment or upsetting neighbours? Or do you need more information to help you to be a good owner?
Do you want to know where to buy a pedigreed kitten from a registered breeder? ..... and why buy from a REGISTERED breeder?
Which breed of cat has the temperament that would best suit your household?
Do you want to find out when and where the next cat show will be held? Are you interested in showing your cat, whether pedigreed or "Domestic"? Would you like to know more about exhibiting in cat shows?
Are you thinking of becoming a breeder, and in need of advice or information? We can provide answers, advice or information on all of these topics, and more.